My personal list it is a widget that helps you to add girls with whom you have a constant communication.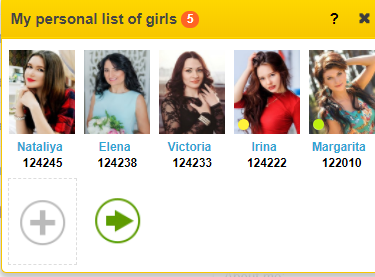 If you want to add some girl in your personal list, you must drag the avatar of the girl with the help of left mouse button and afterwards widget will automatically open. Then drag girl's avatar in the section of picture number in the widget's area. There is a blinking icon on the girl's avatar in the widget section. The icon may be green or yellow.
Green icon shows that the girl is online.
Yellow icon shows that the girl switched on her camera.
For deleting a lady from list - drag her avatar into trash bin.