Purchasing credits on the Bridge of Love is a very secured and well-worked cooperation of website and payment systems, such as PASTA Bank and Multicards.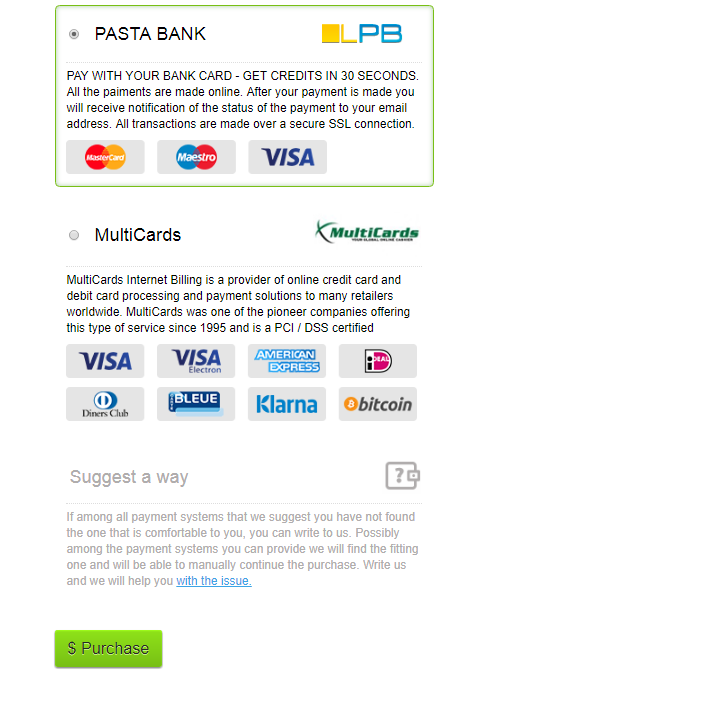 But our website also can accept Bitcoin and other crypto currency.
USUALLY IN A CASE OF A PURCHASE, CREDITS WILL BE COUNTED ON YOUR ACCOUNT IMMEDIATELY.
If you haven't received your credits in 1 minute after a purchase then you should do next:

1) Go to order history and check order status;
2) If order status - finished, then you should just refresh your browser's page and be sure that credits are on your account;
3) If order status - pending, then you should check were your funds billed or no;
4) If funds were billed, but credits wasn't counted, then it is probably a glitch on payment system website(it is a very rare situation). But do not worry. For solving this issue just write us a letter on this address ... where you need to explain the issue, write a S/N of the order and provide a screenshot where billing is noted. After provided request solution comes in 48 hours.
5) If funds were not billed, then we have provided a list of reasons why it happens.
We can also accept your transactions thru alternative ways of purchase, which you would recommend to us, but we asking you to explain your issue with maximum full details. Please take a notice that all alternative ways of purchase, whatever they are, will make a time of receiving credits and successful purchase longer.In some cases after receiving a purchase you will need to wait 24 hours before credits will be counted. We hope that clients that choosing an alternative way of purchase and settled a procedure with administration are ready for dialogue and patience.
For more details about payments and what issues you can face please read this special article
https://www.bridge-of-love.com/article-website_payment_systems_why_payments_on_the_we-1217.html